Who makes up DVG?....
"Delta Veterans Group is comprised of both Veteran and civilian volunteers who wish to serve Veterans in their community. We strive to bring our Veterans the four pillars of success - Housing, Employment, Health and Education- one which will not work without the other three. Through the four pillars of success as a Veteran myself, I was able to find peace and balance in my life, and a chance to bring about positive changes for Veterans in our community. Our goal is simple- to bring together all of the Veteran Service Organizations in our communities and champion support for our Nation's finest men and women Veterans."
-J.R. Wilson, Founder/ President, Delta Veterans Group
DVG ANTIOCH VETERANS DAY CEREMONIES AND PARADE 
It all starts at the Antioch Veterans Memorial at 8am with a Pancake Breakfast hosted by the Antioch Rivertown Veterans Lions Club.  Our Veteran's Day Ceremony starts at 0930. This year's Speaker is US Army Veteran Gary Bostick..The Parade starts at 11am.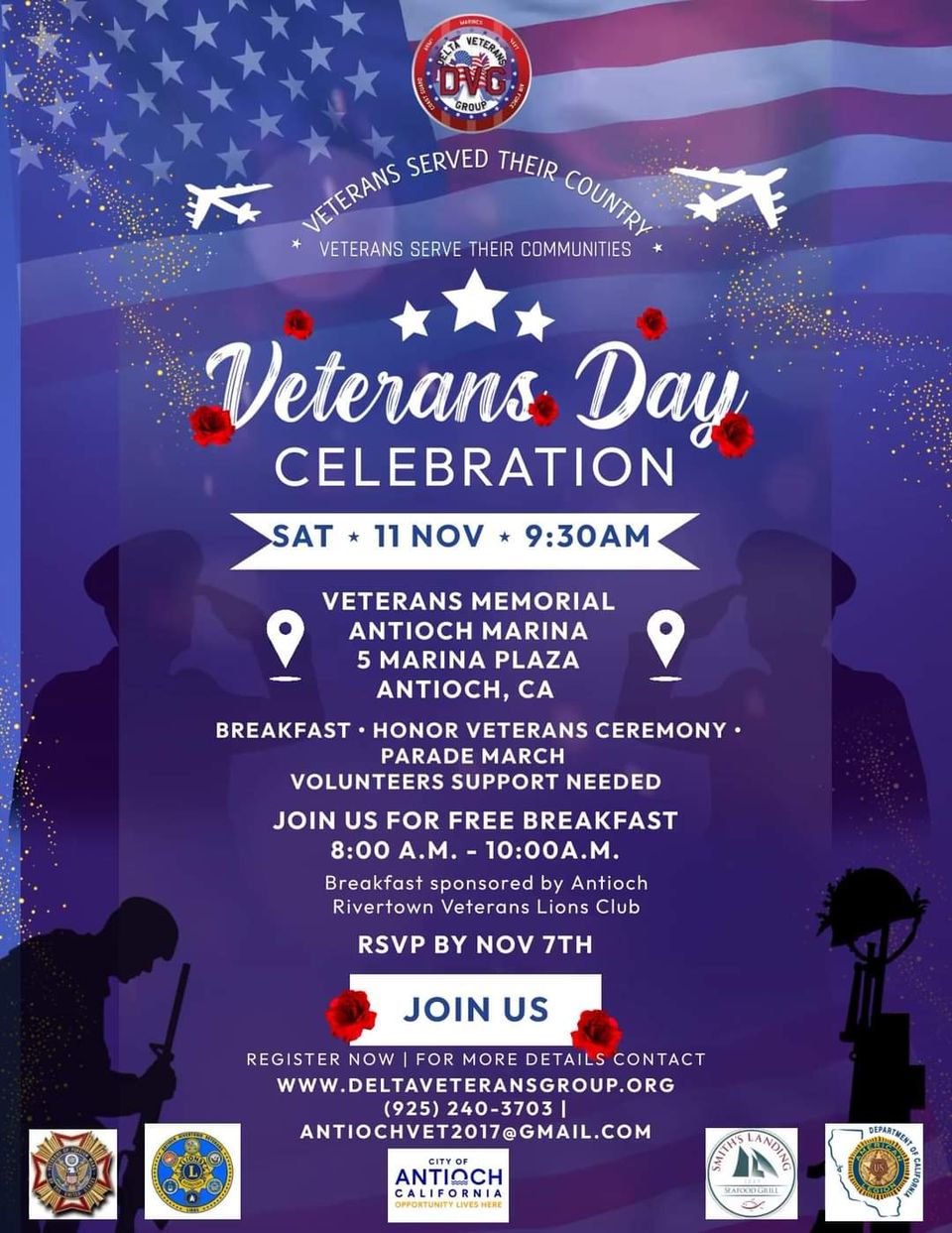 Delta Veterans Group/City of Antioch Veterans Day Ceremony and Parade!!!
Antioch Marina/Veterans Memorial
North end of L Street
Pancake Breakfast Starts at 8am (Antioch Rivertown Veterans Lions Club), Ceremony has a NEW TIME 0930 am and the Parade starts at 1100 am.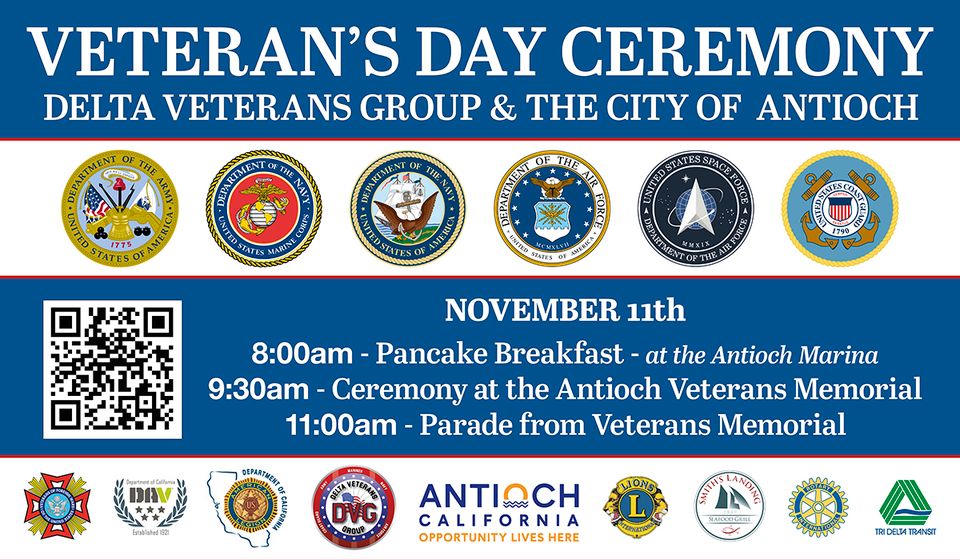 Please Click to Download DVG 2023 Veterans Day Parade Entry Application
Please email all applications to
antiochvet2017@gmail.com
, All applications must be received no later than November 6, 2023
Stand Down on the Delta
DVG 
www.deltaveteransgroup.org
 brings Contra Costa County (CCC) "Stand Down on the Delta" a Homeless Veteran's "Hand Up" event every other year (2015, 2017, 2019….) DVG is proud to bring Stand Down on the Delta 2023 (September 8-11, 2023) to the CCC Fairgrounds in Antioch, CA. This is a four-day event wherein Veteran's receive services in Medical, Dental, Veterans Treatment Court, Housing, Job Placement, Mental Health and Drug and Alcohol Counseling. To date the Stand Down on the Delta biennial event has helped over 1,454 Veterans and their Families, served over 23,000 meals, gave away 1100 pairs of boots,1,500 sleeping bags, 1300 pairs of new Jeans, $500,000 in Dental Care, taken over 200 veterans Fishing on our Delta Shores and helped many more find Permanent Housing. We work with over 70 different organizations during our four day Stand Down on the Delta event. In September of 2019 over 850 Volunteers from around the State of California and even as far as S. Carolina came to Antioch to help us provide these great services to our veterans.
Delta Veterans Group
City of Antioch Veterans Memorial Banner Program


This is a FREE program Banner's will be displayed year round from the intersection of 10th st and L st North to the Antioch Veterans Memorial.  The deceased veteran must have lived in the city of Antioch, CA to be eligible for the Antioch Veterans Memorial Banner's. You must provide a HI Resolution (at least 300 dpi) photo of the Veteran in a Military Uniform.  Veteran Status must be Varified.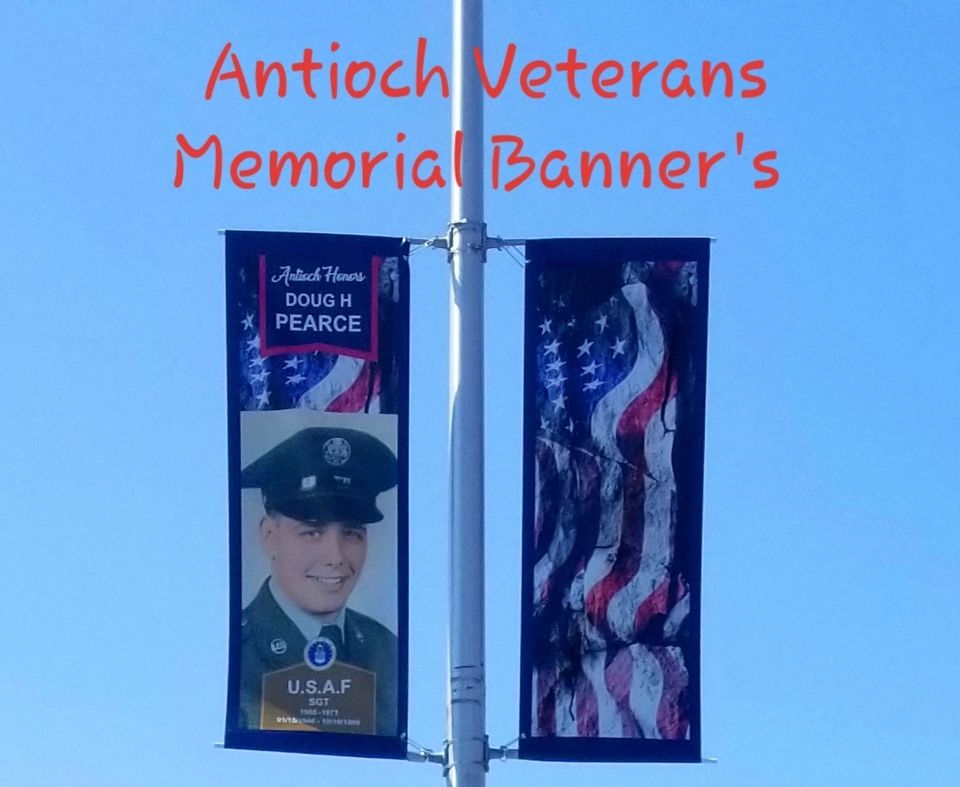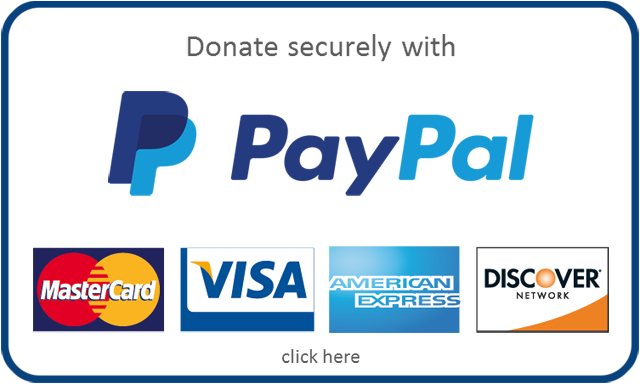 To Donate to Delta Veterans Group Click the PayPal Link
You can Help DVG provide services to our Local Veterans Community by Donating to the DVG!
If you wish to donate to Delta Veterans Group,

E.I.N. #46-2650624

If you prefer to send a check payable to DVG, please send your donation to:

Delta Veterans Group
815 Fulton Shipyard rd
Antioch, CA 94509
Lesher Art Foundation Speaker Series...Non Profit Delta Veterans Group
J.R. Wilson President and Founder of Delta Veterans Group
Delta Veterans Group President talks about Delta Veterans Group Mission and the 4 pillars of Veterans Success
Stand Down on the Delta
David Boatwright talks about how Stand Down on the Delta helped him and continues to help Homeless veterans in need of services
Monica Wilson Stand Down on the Delta 2017 Success
Monica Wilson talks about Delta veterans Group and the success of Stand Down on the Delta...
Bay Area | The Good Truck / DVG
Up in California's Bay Area, Alejandro is meeting with veterans and volunteers of the Delta Veterans Group at the Bay Area Rescue Mission where he meets the staff, serve foods and delivers a scooter before meeting with Chef Kathy Fang of San Franciso's Fang Restaurant to surprise the DVG with a gorgeous garden meal. Presented by Land O'Lakes.
More daily programming
http://www.tastemade.com
Watch us behind the scenes at Snapchat: @tastemade SUBSCRIBE to ALEJANDRO TORO on Youtube:
https://www.youtube.com/channel/UCe5G
...